Breast Cancer Clinical Trials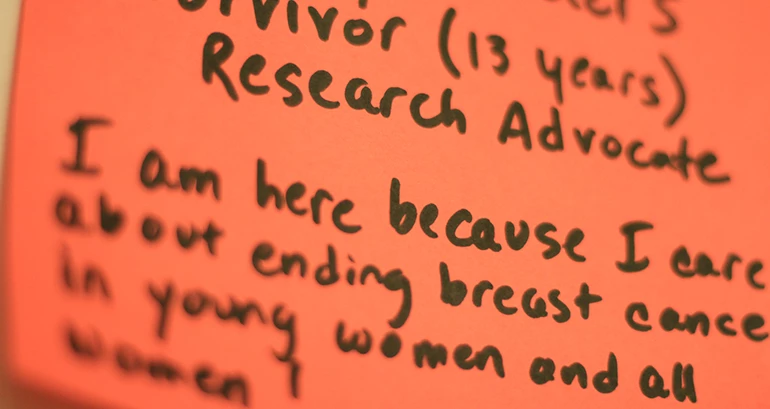 Clinical trials are for women with any stage of breast cancer. Ask your doctor if there are any trials that may be right for you.
Understanding Clinical Trials
Clinical trials are crucial to breast cancer research and advances. It is through clinical trials that doctors can identify new surgeries, medicines, treatments, relief of side effects and breast cancer prevention. These studies are the final steps in developing new treatments or methodologies and are run pursuant to regulations of the US Food and Drug Administration. Contrary to popular belief, clinical trials are not choices for when you are out of treatment options. They are available for women with any stage of breast cancer and women who are post-treatment and long-term survivors.

There are risks and benefits to participating in a clinical trial. Benefits include helping to advance the state of knowledge as well as having access to a new treatment or advance before it is otherwise available. Possible risks include side effects and that the new treatment may not work. You should discuss all possible risks and benefits with your healthcare provider before joining a clinical trial.
Finding Clinical Trials
There are some great resources for finding clinical trials:
Metastatic Trial Search is a tool that identifies clinical trials for women with MBC.
American Cancer Society's Clinical Trials Matching Service has representatives that can help you find a trial that's right for you. Call 800.303.5691.
Breastcancertrials.org reviews breast cancer-related clinical trials and summarizes them in easy to understand language on its website. Users can create a profile and be notified when new clinical trials matching individual criteria become available.
Clinicaltrials.gov lists all clinical trials available.
Learn More
To learn more about clinical trials, watch "Why should I consider a cancer clinical trial?"
For more information on phases of clinical trials, or clinical trials for young women with metastatic breast cancer, visit the Metastatic Clinical Trials page in the Living with Metatatic Breast Cancer section.
Connect with Others
Find women who know what it's like to face breast cancer at a young age. The YSC community makes it easy to find and connect with other young survivors and co-survivors.