Join Us for the 2022 YSC Tour de Pink Lisa J. Frank Memorial Ride
By Cathy Johnson
My name is Cathy Johnson. I am a 12-time rider of the YSC Tour de Pink Lisa J. Frank Memorial Ride (TdP).
I am also a passionate, serious cyclist who has ridden in many amazing locations around the world. Even after riding in places such as Italy and France, I always come back to, and look forward to, TDP. I am unable to make it in person this year, but I am equally as excited to ride in the inaugural Virtual Ride.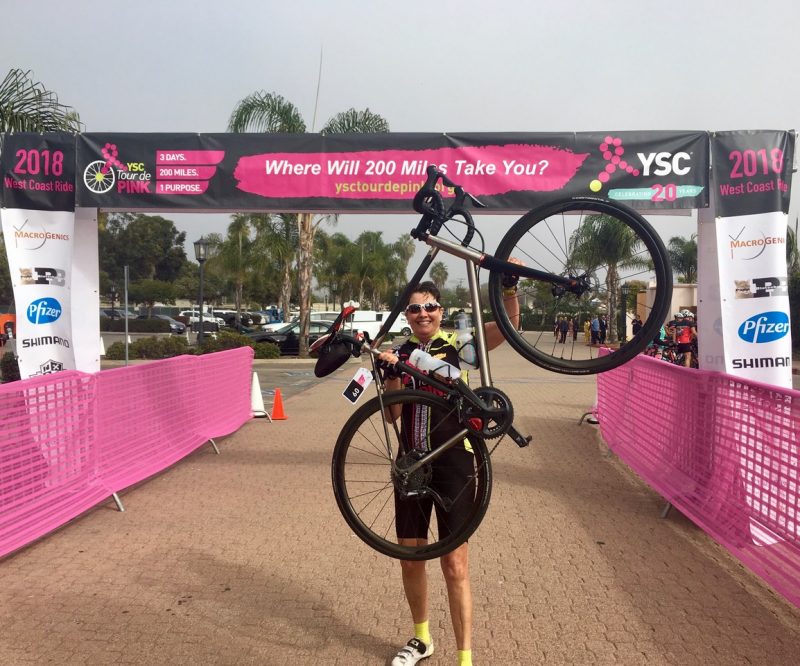 I am a wholehearted believer and supporter of the Young Survival Coalition (YSC), the premier organization providing supportive services and education resources for young adults affected by breast cancer. By riding in the virtual ride, I feel I am helping to ensure TdP thrives every year in every way possible.
Riding in support of YSC allows me to celebrate and remember the women we've lost, and to ride in honor of those surviving with breast cancer. I am riding in support of my friends fighting for their lives with grace, dignity and hope. I ride to support YSC to continue to provide services. I ride because I can.
YSC and our TdP community need this ride, especially this year, to continue to provide support, services, assistance and hope to young adults with breast cancer and to ensure no young adult faces breast cancer alone.
I have become part of a community of survivors and supporters to provide hope, encouragement and life-affirming experiences in a caring, supportive, healthy environment. YSC Tour de Pink does all this and so much more!
I am excitedly getting ready for this year's TdP virtual ride option. If you are unable to ride in person in Long Branch, NJ, for any reason, please join me in riding TdP Virtual. The Virtual Ride is a wonderful way to support YSC, in addition to the in-person option.
Please join me in riding TdP for the one day, two day or virtual ride. We ride because we can!
Warmly,
Cathy Johnson
Virtual Rider,
2022 YSC Tour de Pink Lisa J. Frank Memorial Ride