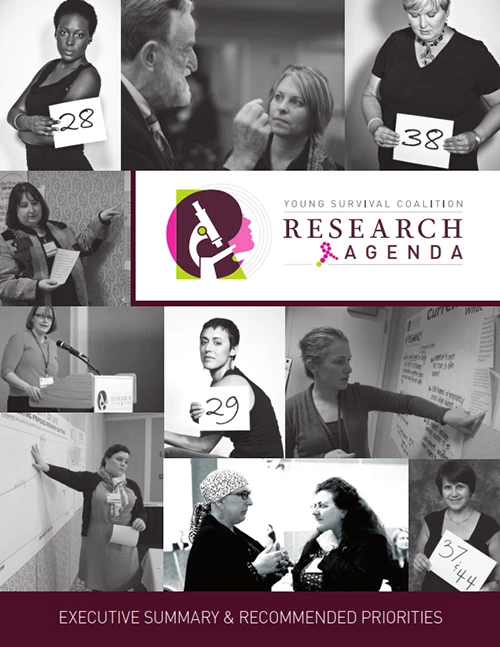 Working together, we will change the face of breast cancer and make a significant, positive and sustainable impact in the lives of young women facing this disease.

YSC Research Agenda on Breast Cancer in Young Women
There have only been incremental strides toward understanding the environmental (internal and external) factors that cause breast cancer in young women and how to best treat or cure it. We decided it was time to focus the attention and work of the medical and research community to ensure that young women are not being forgotten in the fight against breast cancer.

To do so, we embarked on an almost two year long process called the Research Think Tank (RTT). Over 50 advocates, researchers and physicians, working together, identified the most pressing research questions, which must be answered in order to improve the length and quality of life for young women affected by breast cancer. The result of these efforts is the YSC Research Agenda (PDF).
We hope researchers will use the Agenda to formulate their future research projects and that funders will use it to guide their funding decisions. We recognize the value of breast cancer research and the impact of dedicated scientists, researchers and practicing physicians who strive to end this disease. They are our partners in this fight, and progress depends on their guidance and assistance.
For more information on the RTT in-person meeting in February 2013 and the process that led to YSC's Research Agenda, read our article in the Journal of Adolescent and Young Adult Oncology.
Research Think Tank Priorities and Progress
The RTT was composed of six workgroups: Treatment, Metastasis, Quality of Life, Risk Factors, Fertility and Pregnancy.
Learn what the RTT concluded were the highest priority research questions in order to improve length and quality of life in each of these six areas. Examine what progress has been made and what studies are currently examining the important issues identified by YSC:
YSC Can Help Your Research
YSC does not perform or fund clinical research. We recognize that progress on our Research Agenda can only be made through the efforts of the cancer research community.
We are willing to work with and assist researchers who conduct studies that fall within our research priorities. To submit your request for research assistance, complete this form.
Provide details about your study, how it fits within the YSC research priorities and a description of the assistance you are seeking. Here are some parameters and ways in which we can assist.
Check out the video of the Research Think Tank meeting held in Washington DC.

Connect with Others
Find women who know what it's like to face breast cancer at a young age. The YSC community makes it easy to find and connect with other young survivors and co-survivors.