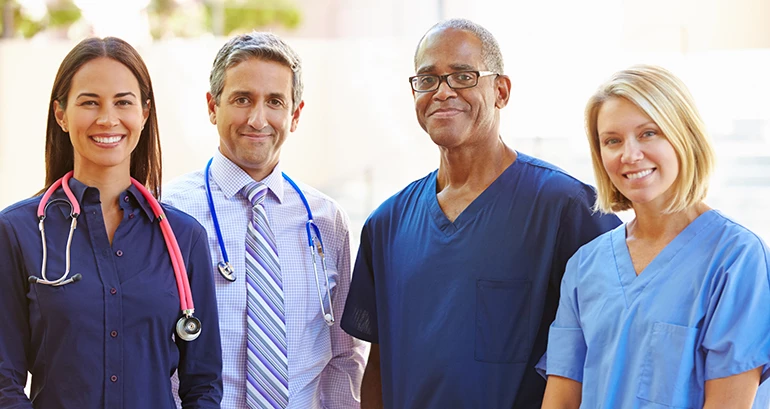 You are the most important part of your healthcare team. Ask questions and ensure that you understand the rationale behind recommended treatments.
Breast Cancer Healthcare Providers
You will have a variety of healthcare providers on your team. They may include:
Medical Oncologist: a physician who will work with you to determine your course of treatment. This is the doctor you will see most regularly.
Breast Surgeon: a surgeon who specializes in the breast, including lumpectomy or mastectomy.
Plastic Surgeon: if you consider or choose to have breast reconstruction, you will consult with a plastic surgeon who focuses on restoring breast appearance.
Radiation Oncologist: a doctor who uses radiation therapy to treat patients. Typically your medical oncologist will refer you to a radiation oncologist if radiation therapy is being considered or recommended.
Oncology Nurse: educates about and administers chemotherapy and other cancer-related treatments. He or she will often be your main point of contact at and in between appointments.
Nurse Navigator or Patient Navigator: assists in coordinating care and appointments and may refer you to local resources and support groups.
Oncology Social Worker: helps with the emotional aspects of cancer; assists with day-to-day concerns such as financial needs; provides individual or family counseling and may run support groups; guides patients and helps resolve issues during diagnosis and treatment.
Nurse Practitioner: a highly trained nurse who can perform some of the same functions as a physician, including prescribing medication.
Choosing Your Healthcare Team
If possible, we recommend seeking treatment at a comprehensive cancer center or large teaching hospital experienced in the unique issues young women face. In many cases, you can get a second opinion from another doctor at one of these centers. Search the National Cancer Institute (NCI) list of designated Cancer Centers to find your nearest center. If it is too far to travel for regular treatment, they will often coordinate care with your local doctors. Ask your healthcare provider or insurance company for more information on travel assistance.
Give your medical team a critical eye—make sure they work well for you. Some important things to consider:
How much experience does your team have treating your type of breast cancer in young women?
How comfortable do you feel communicating with your healthcare team? How available do your doctors make themselves if you need to call or email with questions or concerns?
If you have just been re-diagnosed, do you want to see the doctors from your previous diagnosis again, or would you like to take this opportunity to get a different perspective?
Keep these important points in mind when building a healthcare team that works for you:
Ask for recommendations from friends you trust, a nurse or doctor with whom you have a strong relationship or anyone else who can offer insight and support.
Consider communication and working styles and know what matters to you. How do you work best? Do you want someone with a great bedside manner and time for a lot of questions? Some doctors will develop treatment plans, go over them with you and leave the ultimate decision up to you. Others will simply let you know their decisions. Think about which method you prefer.
As often as possible, see specialists. You'll benefit from consulting someone who can take the time to read up on all the latest treatments and stay current on new standards of care. A generalist usually can't offer that.
Communication Tips for Office Visits
Good communication with your healthcare providers is key. Here are some suggestions for getting the most out of your appointments:
Take someone with you to medical appointments or bring a notepad or voice recorder to help you remember the details of those visits.
Prepare a list of questions to ask in advance, and bring it with you. Our Newly Diagnosed Navigator has a list of questions to help you get started.
Get clear about why any treatment option is being recommended. Learn about possible risks and benefits.
Keep the dialogue open until you understand.
Learn the best way to contact your healthcare team in between appointments and outside of normal business hours.
Helpful Resources
Use our Medication Log and Health and Side Effects Diary to track any issues, and share these with your healthcare team. Ask your doctor under what circumstances you should call or go to the emergency room. This information is especially important if you are starting a new treatment or medication. Our Contact Log is a helpful tool for tracking calls and appointments with your doctors.
You're the Customer
Remember that you are the most important member of your healthcare team. You are your best advocate. Don't hesitate to ask questions and reach out for help.